With summer on the way, it's more important than ever that you make sure you have a skincare routine that is working for you, to properly protect, renew, boost and brighten your skin. In this blog post, we'll be taking a look at Katie Alex's skincare brand of choice: Alumier MD.
What is Alumier MD?
Alumier MD is a science backed, physician-only and medical-grade skincare brand. Alumier MD was created by a group of PhD biochemists, medical physicians and skincare experts with a combined 100 years of experience to create tailored products to help give you clear, beautiful, luminous skin.
Alumier MD's product development process is based around the 'one size doesn't fit all' mantra. By putting together 10 different 'Skin Profiles', including dry, oily, normal and combination skin, Alumier MD creates products perfect for different skin types and concerns. They also create their products with the Fitzpatrick skin types in mind, to make sure they're sun safe and work for all skin tones as well.
Alumier MD products are focused on the science and physiology behind good skin, formulating deeply effective products to treat a wide variety of skin concerns. Alumier MD products utilise deeply effective ingredients, and innovative packaging and delivery systems to ensure you're getting the most out of your skincare routine.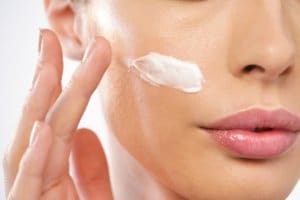 Alumier MD is only available from qualified, partnered physicians. As the products are so potent and effective, it is important to have a skincare professional like Katie Alex, who understands the concerns that can be treated, the effects, and active ingredients in each and every product in the Alumier MD range. Because qualified physicians like Katie are administering the products, you can be sure that your skincare routine is completely tailored to you and working as well as it possibly can for your skin and concerns.
Alumier MD products are also free of parabens, sulfates, petrolatum and dyes, packaged in an environmentally friendly way, use ingredients that are sustainably sourced and don't cause any damage to the environment, and are never tested on animals, making it perfect for those of us trying to create a kinder and more ethical skincare routine.
Alumier MD Vitamin C Serum
One of Katie's favourite Alumier MD products is their revolutionary EverActive C&E serum – an answer to the hundreds of Vitamin C serums that don't work as well as they could do, and don't give you the results you need. Vitamin C is an amazing ingredient with a wide variety of skin benefits, and when formulated properly, can have a huge impact on the appearance and condition of your skin.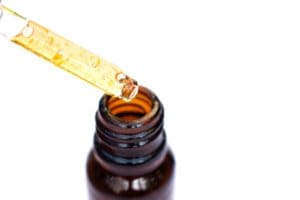 Vitamin C can help to improve the appearance of the skin, as well as promoting skin health. Alumier MD's EverActive C&E serum, with its high concentration of vitamin C, can help to:
Brighten and revitalise dull skin by gently exfoliating and removing the layers of dead skin on the skin's surface.
Smooth fine lines and wrinkles and plumping and firming skin, by boosting its natural collagen production.
Fight free radicals like pollution and sun damage, leading to younger, brighter-looking skin.
Brighten and reduce hyperpigmentation and brown sun or age spots, as well as evening out skin tone.
Repair skin from sun damage by encouraging skin turnover and increased cell regeneration.
Improve the appearance of scars.
Protect against sun damage.
Vitamin C, while an incredibly effective skincare ingredient, can be very unstable and can easily lose its effectiveness. In many vitamin C serums, it is often not present in high enough concentrations to be as effective as it can be, and is also commonly deactivated by being exposed to air and light, which oxidises it and means it is no longer effective.
To combat this, Alumier MD's vitamin C serum comes in three separate, small vials, with a unique delivery system in the cap which keeps the vitamin C crystals separate from the liquid part of the serum until it is ready to be used. The serum is also kept in opaque packaging to prevent vitamin C deactivation from light entering the bottle. The serum is activated only when you need to use it, ensuring that the product remains effective for longer.
EverActive C&E also contains the highest available strength of vitamin C concentration – at 15%, which is considered the optimum amount by dermatologists and skincare experts.
Alumier MD Sunscreens

While Vitamin C is a wonder-ingredient and can help improve the appearance of sun damage, as well as strengthening your own skin, it is not a replacement for sunscreen, and the two work best in conjunction with each other. Sunscreen is one of the most important parts of any skincare routine, and is the best way to prevent the appearance of ageing and protect the skin.
The Alumier MD range of sunscreens offers a three-in-one sunscreen, moisturiser and foundation for a variety of skin tones, while also remaining incredibly effective as a facial sunscreen. Katie Alex is proud to be a stockist of Alumier MD skincare because of their commitment to quality, science led formulas and effective results. So, if you're looking to update your skincare routine using high-quality and deeply effective products, or if you want to learn more about the other treatments offered at Katie Alex Aesthetics, contact the clinic on 0161 327 1734.