With Mother's Day just around the corner (March 31st, for those of you who forgot!), now is the perfect time to treat your mum to a relaxing Mother's Day present at Katie Alex Aesthetics, so she looks her absolute best for the day that's all about her.
With a variety of skin procedures available, this year you can help your mum feel incredible, and boost her self-confidence. We have everything you need to help show your mum how much you appreciate her and everything she does for you this Mother's Day.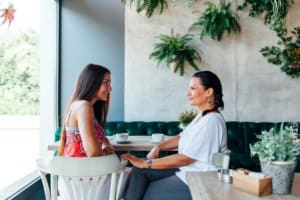 Dermaroller is an advanced form of medical skin needling – a process that uses tiny micro-needles to puncture the skin, creating tiny "micro-injuries" in the skin, which then tricks the body into kick-starting the skin healing process, boosting collagen production and helping to create new, fresh, smoother skin.
Dermaroller is effective as it reaches below the top layers of skin, unlike many other treatments which are only effective in the upper layers of skin.
This might sound a little scary at first, but Dermaroller treatments are a safe and effective way to give skin that healthy boost, and like all of our treatments, are administered by Katie Alex herself, a fully-qualified and experienced aesthetic nurse.
Lines and wrinkles in the face and decolletage are effectively treated with Dermaroller treatments, as well as stretch marks, acne scarring and sun damage.
The newly regenerated skin visible after Dermaroller procedures doesn't fade, but the skin will continue to age as normal, so we recommend you start incorporating regular dermaroller treatments into your skincare routine.
It usually takes around 6 weeks for the best results to show after a dermaroller treatment, so if you want to get your mum an early Mother's Day present that will keep her skin glowing after the big day has been and gone, now is the perfect time! Mother's Day will arrive and she'll be looking and feeling her best.
Chemical Peels are a brilliant treatment to tackle age spots, pigmentation and acne, as well as fine lines and wrinkles. The peels contain trichloroacetic acid, a non-toxic chemical that gently penetrates the skin's upper layers, causing them to peel off over a period of around a week. This then leaves the new, radiant skin showing underneath, and the upper, damaged layers are removed.
Chemical peels have been used in the aesthetics industry for many years, and are a safe and incredibly effective treatment that will help make you and your mum look brighter, fresher and younger in time for her special day.
A revolutionary skin treatment, Plasma BT comes in two separate forms, Plasma Shower and Plasma Surgical. Plasma BT treatments work on the surface of the skin, as well as in the epidermis and the dermis, to provide results that are effective from the inside out. Plasma Shower and Plasma Surgical use the same technology, but are applied in different ways depending on the desired results, so your Plasma BT treatment can be tailored to you or your mum' specific skin concerns.
Plasma Shower is a form of needle-free mesotherapy, and is used to sterilise the skin by destroying  and removing bacteria. This prevents bacteria buildup that causes and worsens acne, as well as improving the absorption ability of the skin, so that any other skincare products that are applied become more effective. It also boosts collagen production and speeds up skin regeneration, causing the skin to brighten and tighten, leaving your mum looking and feeling brand new.
Plasma Surgical is a device that uses a small needle to direct the plasma treatment directly into concentrated areas, and is a great alternative to traditional eyelid surgery (blepharoplasty), as it provides similar results without the traditional risks associated with surgery. It can also be used to treat a variety of skin conditions that may be making you, or your mum, feel insecure, including lines and wrinkles, skin tags, broken blood vessels and the appearance of scarring. Plasma Surgical takes around a week for your skin to return to normal, so that when mother's day comes around, you'll both be feeling the best you can be.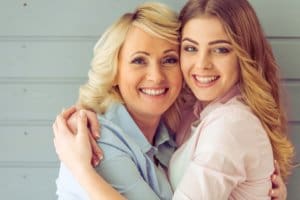 Mother's Day is the time of year when you really get to thank your mum for everything she does for you, and what better way to show how much you care than by giving her the gift of a real confidence boost? At Katie Alex Aesthetics, we strive to create natural-looking and beautiful results, so you and your mum can spend some quality time together looking and feeling your best this Mother's Day.
If you want to give your mum a treatment at Katie Alex Aesthetics this Mother's Day, contact the clinic on 0161 327 1734, and help her get ready for her special day.