You may think that SPF and sunscreen are holiday essentials and nothing more, but you'd be wrong! Even in the classic British weather we all want to escape so much, your skin is still at risk from harmful UV rays, so if you aren't using a sunscreen every day, now might be the time to start! SPF protection isn't discussed very much, especially during the winter months and when the weather is distinctly lacking in sunshine, but it is the key to a successful anti-ageing skincare routine. At Katie Alex Aesthetics, we recommend a good SPF as the number one addition to your skincare routine.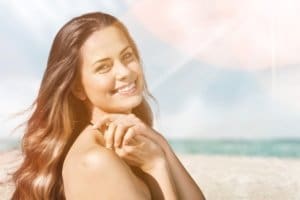 What is SPF?
SPF stands for Sun Protection Factor, and refers to products that help protect the skin from UVB rays. UVB rays are shorter rays that burn the surface layers of the skin causing the majority of sunburn, and have strong links to certain varieties of skin cancer, so it's vital to protect your skin. At Katie Alex Aesthetics, we recommend an SPF of at least 40, which protects skin from 97%-98% of UVB rays.
Your SPF should also contain UVA protection. UVA rays are longer than UVB rays, and can penetrate the skin more deeply. They impact elastin in the skin, and are the number one cause of collagen loss, causing premature signs of ageing. UVA rays are responsible for a variety of aesthetic issues, including wrinkles, leathery skin and brown pigmentation spots. UVA rays also have links to skin cancer, and can penetrate windows and glass, so even if you spend most of the day indoors, you still need an SPF product with solid UVA protection.
UVA protection in the UK is measured on a scale of 1-5 stars, with 4 stars and up being the recommended level. However, most facial sunscreens don't use the star rating, so you should make sure the facial sunscreen specifies it protects from UVA and UVB waves, or is described as a 'broad spectrum' sunscreen. Broad spectrum means that a product has been tested and approved for UVA and UVB protection. In order to protect your skin properly from the sun, you should make sure you have an SPF that contains both UVA and UVB protective factors.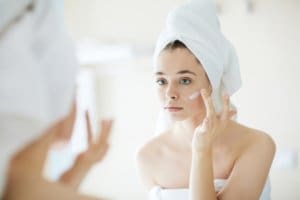 What SPF Should I Be Using?
Chemical and physical sunscreens are available, and both can combat a combination of UVA and UVB rays. Chemical sunscreens work by breaking down UV rays into harmless heat and light when they hit the skin. If you're doing a lot of exercise or physical work, chemical sunscreens are better as they absorb into the skin and won't sweat off, however, for daily use we recommend a physical sunscreen. Physical sunscreens are good for people with sensitive skin as they don't penetrate the skin. They work by physically reflecting the UV rays off the skin, as opposed to breaking them down once they hit the skin.
At Katie Alex Aesthetics, we recommend the Alumier MD range of skincare and sunscreens to best protect from sun damage.
Many people believe that having an extra product to put on in the morning is a waste of time and makes their skin and makeup feel heavy and uncomfortable. Alumier MD's range of sunscreens act as combination products, as they are deeply moisturising, contain UVA and UVB protection, and are available in tinted and untinted varieties, so they can act as a replacement for foundation too. This helps to reduce the amount of different products you need to use every day, and makes inserting a sunscreen into your skincare routine absolutely effortless.
Clinically formulated to provide high levels of UVA and UVB protection, Alumier MD is only available through highly experienced skincare professionals, such as Katie Alex. They use high-quality ingredients developed by a team of professionals to make effective, tailored skincare, and all Alumier MD products are free of parabens, sulfates, petrolatum and dyes. They also do not test any of their products on animals, making them a highly ethical company.
At Katie Alex Aesthetics, we know that one size doesn't fit all when it comes to skincare, and Alumier MD's range is developed to incorporate products tailored to different skin types, tones and concerns. This includes products formulated specifically for dry, oily and combination skin, ranges for sensitive, acne-prone and pigmented skin and specialist anti-ageing and rosacea treatments. We stock a wide range of Alumier MD sunscreens and other Alumier MD skincare solutions to make sure that you get the product that is perfect for you.
At Katie Alex Aesthetics, we want to make sure you feel amazing in your own skin. The best way to get bright, youthful and beautiful skin and prevent from sun damage is to get your hands on a good sunscreen, and using SPF is important for your general health too! So even if it's a bit of a gloomy, grey day outside, we have the sunscreen solution for you.
If you need a new SPF solution or want help getting the best skin of your life, contact the clinic on 0161 327 1734, and see how Katie Alex can help you protect your skin.